The day when a boutonnière was pinned on Pierre Trudeau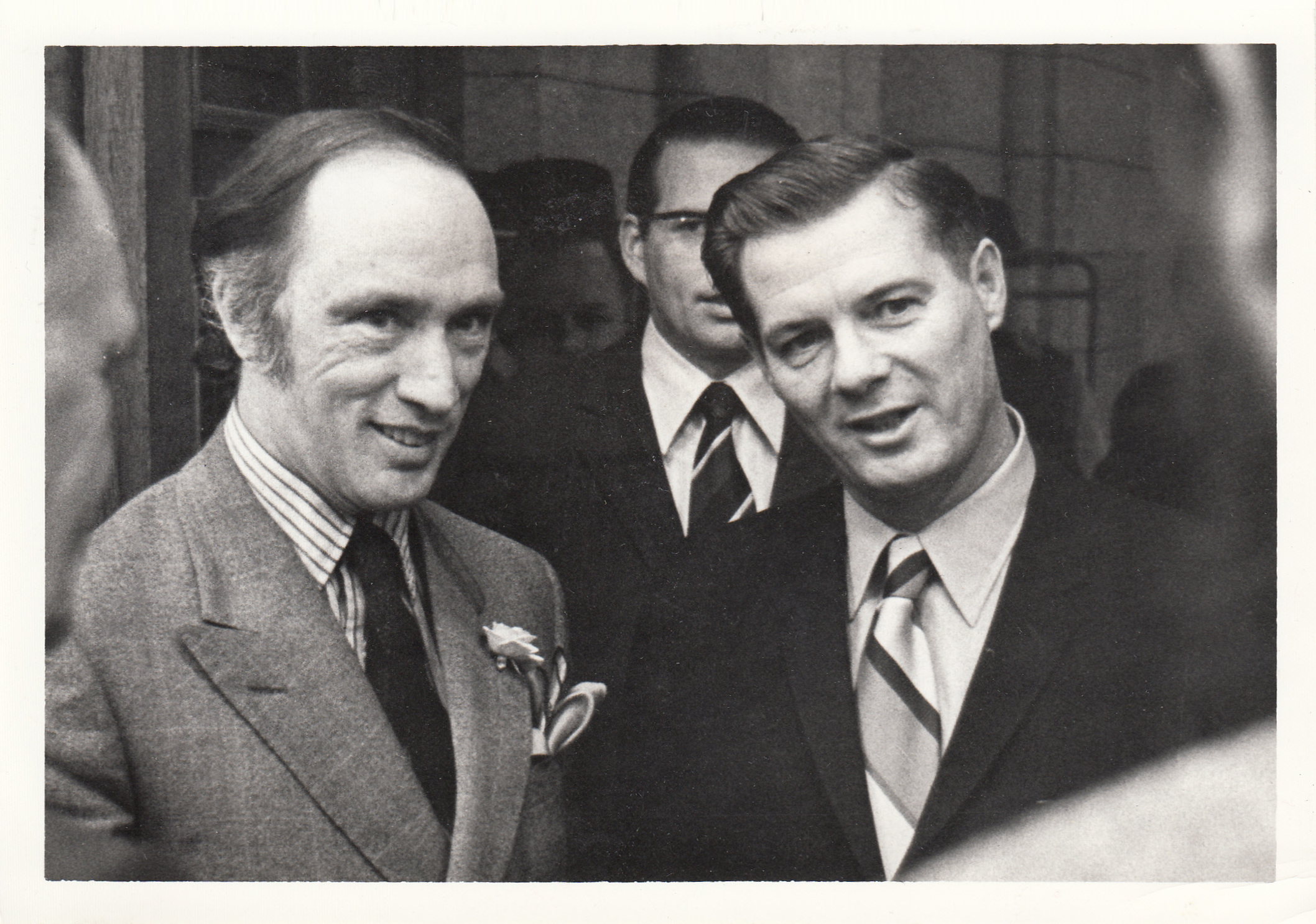 Prime Minister Pierre Trudeau was well known for wearing a rose in his lapel. In deference to this, CCA President Mark Stein also wore a rose for the association's 1969 interview with the federal cabinet. Noticing that the prime minister's lapel that day was un-adorned, Mark presented his rose to the prime minister and pinned it on his jacket. A simple gesture that got the discussions away to an excellent start!
The annual meeting with the federal cabinet was a highlight in the CCA's program for many years. An approach was made in 1952 to Right Hon. C.D. Howe that he and appropriate cabinet colleagues (e.g. Finance, Public Works, Labour, etc.) collectively meet with a CCA delegation. Howe was agreeable and chaired the annual joint meetings. After the change of government, Prime Ministers Diefenbaker, Pearson and Trudeau also took part, along with a dozen or so cabinet ministers. In 1970 the CCA invited the presidents of the national bodies representing the architects, consulting engineers, specification writers and home builders to join the CCA delegation. In short, the entire industry was represented.
The pattern followed at the interviews was to present a brief oral summary of the main recommendations in the CCA brief, followed by responses from the ministers and further discussion by both sides as appropriate. Advance copies of the brief had been provided with the result that there was often a flurry of activity on the part of civil servants as they strove to provide positive briefing notes to their ministers. The interviews not only expedited progress but also led to considerable media coverage and enhanced the CCA's prestige generally.
Cabinet interviews were also regularly conducted at the provincial level of government. The CCA would first draft a brief and send it to its member associations in the province for approval or revision. The document would then be submitted jointly in the name of the CCA and each association. The delegation would be equally representative.
In New Brunswick, the cabinet interview was usually followed by a dinner at which the ministers were guests. Those in Newfoundland were characteristically different. They were held in Premier Smallwood's office. He also listened to his radio and received other messages from staff throughout the discussions. One year he kept the delegation waiting for over an hour and then cancelled the meeting because he had already read the industry's policies in the morning newspaper. (The opposition daily had ignored the release time on the press release). The leaders of the provincial associations were very indignant: "It's all right to treat Mainlanders like that, but we're Newfoundlanders!"
Pictured are Prime Minister Pierre Trudeau and CCA's R.G. Saunders in 1970.